Article: Helping Kids Deal With Discrimination
Parentline
Watching a child deal with discrimination or lack of acceptance can be tough.
Culture is the accepted norms and practices of a particular group of people.
We often see a person's cultural background through their language, race and ethnicity and how it is expressed through things like art, music, food, literature and style of clothing.
Other groups of people can have different aspects of their identity in common.  For example, it could be their gender, age, sexual preference, physical abilities or social status.
Cultural differences, including discrimination and racism, can impact your child's wellbeing.  There are ways to help your child through it.
What does cultural discrimination look like?
The most common forms of cultural discrimination experienced by young people are:
Verbal and emotional abuse
Bullying and harassment
Physical abuse and violence
Racial remarks or being called insulting names
Being treated disrespectfully or unfairly by a teacher or other adult
Being treated disrespectfully or unfairly by peers
When your child faces discrimination
As a parent you can provide support to your child if they experience discrimination. You can also encourage acceptance of differences through your own actions.
Here are some ways to help your child:
Raise your child with pride in their own cultural background and identity
Encourage your child to be assertive when it's safe to do so
Teach your child that discrimination is not okay and that it is against the law
Reassure them that they don't have to deal with it alone and show that you are there to support them
Talk positively about other cultures or groups and teach them acceptance
Avoid retaliation or displays of aggression in front of your child
Talk with them about stereotypes and actively challenge these by focusing upon the individual
Expose your child to multicultural experiences and diverse friendships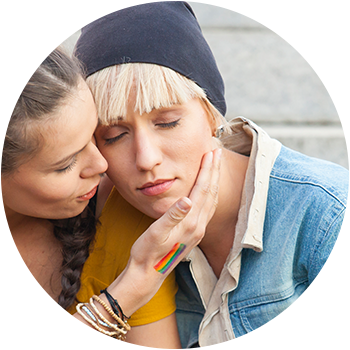 What is the impact of cultural discrimination?
Discrimination is when a person is treated less favorably because of some aspect of their identity (eg. race, religion, gender). Discrimination can lead to:
Feelings of sadness and lack of trust
Isolation and exclusion
Depression and feeling suicidal
Anxiety and fear of being attacked verbally or physically
Inability to concentrate on study or at work
Post-traumatic stress and flashbacks
Anger and urges to retaliate
Reduced self-confidence, self-worth and impact on identity development
---
Article available at https://parentline.com.au/older-kids/issues/helping-kids-deal-discrimination