"Will you…run for office?" – How To Ask A Woman In Your Life To Run
It is one of my favorite memories. They took me to our favorite restaurant and spent the evening reminding me of my accomplished goals and community contributions. We took a selfie and they told me that mine was a face that should be on campaign buttons. We swapped stories of our favorite inspirational leaders and what we loved most about our town. At the end of the night they got down on one knee and asked me "Jarinete, will you run for city council?" 
Okay, that didn't really happen. But can you imagine?
Across the board people are enthusiastic about seeing more women in office, and the good news is that many people already know that asking women to run for office helps them to consider the option for themselves. However, the type of invitation is very important. So for all you wonderful people who care about balancing women's representation in elected positions, let's roll up our sleeves and learn how to recruit women in ways that will make them want to say "YES!"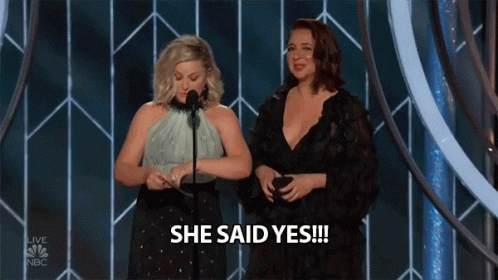 Get smart about civics
It's great that you think the woman in your life should run for office, but it will help make the ask seem more achievable if you know which office she should consider. You know her best, do you think her skills and interests are suited for the mayor's office or Capitol Hill? Or maybe somewhere in between? Determining which office to run for can feel daunting and might halt someone from truly considering the invitation. You can remove this step by telling her why she's a good match for a specific position. Learning about elected offices is easiest if you research your specific state and city. If you want to learn more about elected offices in general check out our Civics 101 video or invite the woman in your life to take our Which Office to Run for quiz and hype her up when she's finished. 
Make it personal
Many women are involved in thankless work. It is seldom that they hear all the things they do right and why people appreciate them. An invitation to run for office is the perfect time to announce all the qualities and skills you love about the woman in your life. Maybe she is excellent with organization, or authentically compassionate, or she has unwavering integrity, or she is an encyclopedia of information about your community (all great skills use in elected office, by the way), whatever it is about this woman that makes you think she would be a great fit to lead in politics, be sure to tell her.  Bonus, use examples to show her just what you mean. Backing up your invitation with evidence will let her know that you have really thought about this, and it will provide her a confidence boost and support system that will be critical once she does decide to run. 
Offer support 
It takes a whole team of supporters to get a woman to think about running for office, run for office, and serve in office. You can kickstart this team for the woman in your life by declaring your support as you're asking her to run. Here are some great phrases to show that you can't wait to champion her journey:
I better be your first fundraising call, I can't wait to contribute to your campaign!
I'm looking forward to knocking doors with you so I can tell everyone why you will be great at this role!
I'm connected with [insert mentor/current elected official/community leader here] and can put you in touch. They would be happy to help you prepare. 
I promise to be there to celebrate with you on the good days and to pour a bottle of wine on the harder days. 
Follow-up
This is a big invitation, and if you included all of the previous steps then you have given the woman in your life a lot to think about. Give her some time to process, and then remind her about your invitation. This is a great time to ask if she has any questions or concerns and offer to help sort them out with her. Following-up will show that you take her and your invitation seriously and will provide another chance for her to hear that she would be fantastic as an elected leader!
To see what these invitations look like in real life, check out these videos where change-making women are identified, uplifted, and invited to run for office. And grab your tissues while you're at it. 
__________________________________________________________________________________________________________
If you're looking for more tips on how to support women's political representation be sure to check out our Role Call quiz and learn how you can put your unique talents to work getting more women in office. 
Enjoying our blog content? Help pay it forward so more women are able to wake up to their political potential. Donate to support She Should Run.
Give Today