Three Things I Learned From Stacey Abrams
In 2018, Stacey Abrams ran for governor in the state of Georgia. Had she won, she would have been the first Black female governor of any state in the U.S. Prior to running for governor, she served in the Georgia House of Representatives, specifically as Minority Leader, from 2007 to 2017. Her leadership has inspired a generation of women and girls to lead boldly and take risks. In this article, Cierra Jackson, She Should Run Ambassador, shares three things she's learned from Abrams from working on her gubernatorial campaign to listening to her speak in Washington, D.C
It was 2011 when I first heard of Stacey Abrams. I was a Political Science student at Spelman College, where Stacey had graduated from in 1995. Abrams had just become Minority Leader of the Democratic Party in the Georgia House of Representatives, but at the time, I only knew her as a politician and my Spelman Sister. What's a Spelman Sister you ask? A Spelman Sister comes from a unique, one-of-a-kind Sisterhood of women who attend Spelman College, a historically black college, the #1 Historically Black College in the nation might I add, and liberal arts college for women nestled in Atlanta, Georgia's Historic West End community.
I ended up working on my Spelman Sister's gubernatorial campaign in Atlanta last year. Had she been elected, Stacey would have become the FIRST Black woman ever in American History to become a Governor of any state in the nation. Certainly, an admirable and rightfully expected accomplishment coming from a graduate of a Historically Black College for women. This past April, I was able to attend a Conversation with Stacey Abrams at UDC, where I received three key pieces of advice.
Don't hide your light.
Stacey Abrams is an incredibly intellectual writer, attorney, and speaker. Born to a librarian and ship worker in Mississippi who would later become preachers, her family affectionately called themselves the gentile poor. During the Conversation at UDC, Stacey shared an interesting story from when she was enrolled in an AP English class that resonated with me deeply.
One day, Stacey's AP English teacher pulled her to the side and asked her to not use such advanced words in her vocabulary while speaking in class because it was making the other students uncomfortable. Witty as Stacey was, she decided to follow her teacher's request and go on a silence strike for two weeks. This lead to the teacher calling in her mother for a conference.  As any parent would do, Stacey's mother asked her daughter first what was going on in her classroom, so Stacey explained the situation. I can only imagine the look on her mother's face! Stacey's mother immediately knew what to do. When she made it to the parent-teacher conference, she told the AP English teacher that her daughter would not pretend to be dumb to make other students feel comfortable in her class. 
Stacey's mother told her daughter that same day, "Don't hide your light. Don't dumb yourself down so others might feel comfortable."  That is a message all women, especially women who aspire to political leadership, can live by. 
Stacey would go on to graduate Valedictorian of her High School Class, graduate from Spelman College, become a Yale-educated lawyer and run to be the minority leader of the Georgia Democratic Party. She would become the First African American ever to hold the position in either part with the State Legislature of Georgia, never dimming her light so others may feel comfortable. 
Seeing Stacey do all these things as a Spelman graduate was inspiring to me.However, hearing of Stacey's accomplishments would not be the only time I would hear of her story. Fast forward from 2011 to 2014, I was interning as a political fellow on Michelle Nunn's campaign to be Georgia's U.S. Senator. It was there that I would meet Ms. Abrams for the first time when Abrams came to the Michelle Nunn Campaign Headquarters to show our candidate some support. Our conversation was short and essentially consisted of politics and Spelman. And though that was the first time I met her in person, it wouldn't be the last.
Play work-life Jenga.
As a romance novelist, tax attorney, and entrepreneur, she rejects the notion of work-life balance, stating "it's worse than a myth. But simply it is a bald-faced lie." She instead believes in work-life Jenga. Work-Life Jenga, as she puts it, is the perspective of realizing that everything in life is all unsteady, and when you are prepared for the unsteadiness, you can rebuild anything pretty quickly.  
Work-Life Jenga, as she puts it, is the perspective of realizing that everything in life is all unsteady, and when you are prepared for the unsteadiness, you can rebuild anything pretty quickly.  
Yet, even though the opportunities I had experienced so far were valuable, I knew that everything in my life was not happening in the way I envisioned and desired greater opportunities. So I took a risk and moved to Washington, DC from Georgia to continue my pursuit of a career in political office. That lead to me becoming a Running Start Fellow, Capitol Hill intern for Congresswoman Tulsi Gabbard (a current 2020 Presidential Candidate), and the only Obama White House intern selected to serve the Chief of Staff's office. I'd later become Miss District of Columbia, compete for Miss America, become an Ambassador for Running Start and now currently an Ambassador for She Should Run. I gained some phenomenal opportunities, but I would not have been able to if I didn't take the initial risk.
Do what you want to do.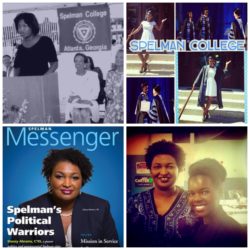 The greatest advice I gained from my Stacey Abrams conversation is you have to do what you want to do, even if you are the only person who cares about doing it. Stacey encountered many people even those close to her who discouraged her from running for Governor of Georgia. Not unusual to the journey, many women face large discouragement to women publically seeking power and running for public office. Yet as Stacey would advise you have to be willing to take the risk to  do the things you want to do even if you are the only person who thinks it should be done and the only person who will encourage you to do it. That is a message I believe we all can benefit from and grab hold to as we pursue the run for office. Regardless of the boxes that people put you in, especially as women, we should always be bold enough to exceed expectations and we should always be encouraged to run. 
If you're curious about running for public office, we encourage you to join our Virtual Cohort. In this seven-week program, you'll learn to cultivate your leadership, build your network, foster your communication skills, and find your own pathway to public office while building a supportive community with women from all across the country and hear from women with real-world experience. 
Not sure running for office is for you, but want to support women in leadership? Ask a woman to run for office and connect them to the resources they need to get started running for office.
Enjoying our blog content? Help pay it forward so more women are able to wake up to their political potential. Donate to support She Should Run.
Give Today