Navigating the Boys' Club
Happy Veterans Day from the She Should Run team! We're so grateful to Air Force veteran and friend of She Should Run Tatayana Garvin for sharing her story with us. Tatayana is a Post Production Coordinator at B2+, a Los Angeles-based creative content production company, an avid reader, and a thrifting enthusiast. Read below to learn about her career trajectory, her time in the service, and her advice on how to handle being the only woman in the room.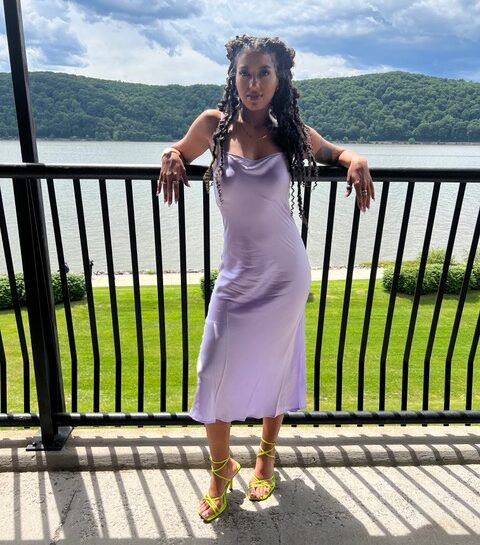 I grew up in a small blue-collar town in Upstate New York called Elmira. My dad is a big athlete in our town, and it trickled down to us; he put a basketball in my hand at the age of four and I never put it down–I even captained our girls' base basketball team during my tour in Korea! I joined the Air Force in 2012 with a four-year contract that I ended up extending for an extra year. Coming from a military family, I knew that if I served, I could have my college covered at the expense of four years of freedom. My career in the Air Force was as an armament technician, known as a Weapons troop. My job consisted of maintaining numerous weapon systems on aircrafts like the B-2 Bomber, F-16, and the MQ-9. Typical duties included loading bombs, cleaning and unjamming the gun system on the F-16, loading missiles on the MQ-9, keeping quality control of our billion-dollar asset toolboxes…and playing spades while waiting for Ammo shipments!
A boys' club is an understatement. 
I was one of only three women in my entire shop of about 50, and in my squadron of 1,500, there were about ten women–a boys' club is an understatement. In a male-dominated workplace, you have to find something that you can relate to others with. For me, that was sports; because I grew up on the football field sidelines as my dad coached, I followed the NFL and joined a fantasy football team at work. I also played basketball at the base gym everyday and was able to connect with people there. If sports aren't your thing, think about other hobbies or interests you can use to relate to others–we did a lot of hikes and would go explore the local area or nearest city for restaurants, too. 
After leaving the Air Force, I began shifting my career toward film production. I am currently a Post Production Coordinator at a creative content production company in Los Angeles, and the transition from strict discipline in the military to the breezy etiquette in LA was a huge culture shock for me. Now that I've been here almost five years, I've learned to adapt more and to let my sense of urgency kind of subside. I will say, though, that working on the flightline for 12 hours a day really prepared me for life on set; a film crew typically works 12 hours a day as well, and I think without that kind of background the transition would have been a lot harder to adjust to.  
You have to keep a strong voice.
One of my biggest takeaways from my time in the service, especially as a woman among so many men, was that you have to keep a strong voice. Don't ever let anyone talk over you or make you feel small, because it will make others believe they can do the same thing. As the only woman in the room, you will be analyzed more so you have to be twice as good. Being a Black woman, it's something you're told as soon as you go to school, but I hadn't thought about it translating to the military. Get better than the boys and they will respect you for it. Is it sad we have to work harder? Absolutely. But when has being a woman ever been easy?   
Want to learn more about Tatayana? Follow her on Instagram! 
Note: Edited for length and clarity. 
Enjoying our blog content? Help pay it forward so more women are able to wake up to their political potential. Donate to support She Should Run.
Give Today