New Resource! The Public Office Profile Suite
At She Should Run, our job is to help uncover and break down the barriers that keep women like you from considering a run for office. One of those barriers – and one of the biggest challenges around gender equality and equal representation in the United States – is a lack of understanding of the specific duties and responsibilities of various roles in government. According to a recent survey, 59 percent of women said they would be more likely to consider a run for office if they had better access to information about offices available.

In direct response, the team at She Should Run has developed a new resource available for free to all members of the She Should Run Community! The Public Office Profile Suite demystifies what the jobs of various elected officials entail by providing a simple, one-stop resource that outlines everything from duties and responsibilities to average salaries, and even interviews with women who have served in specific positions.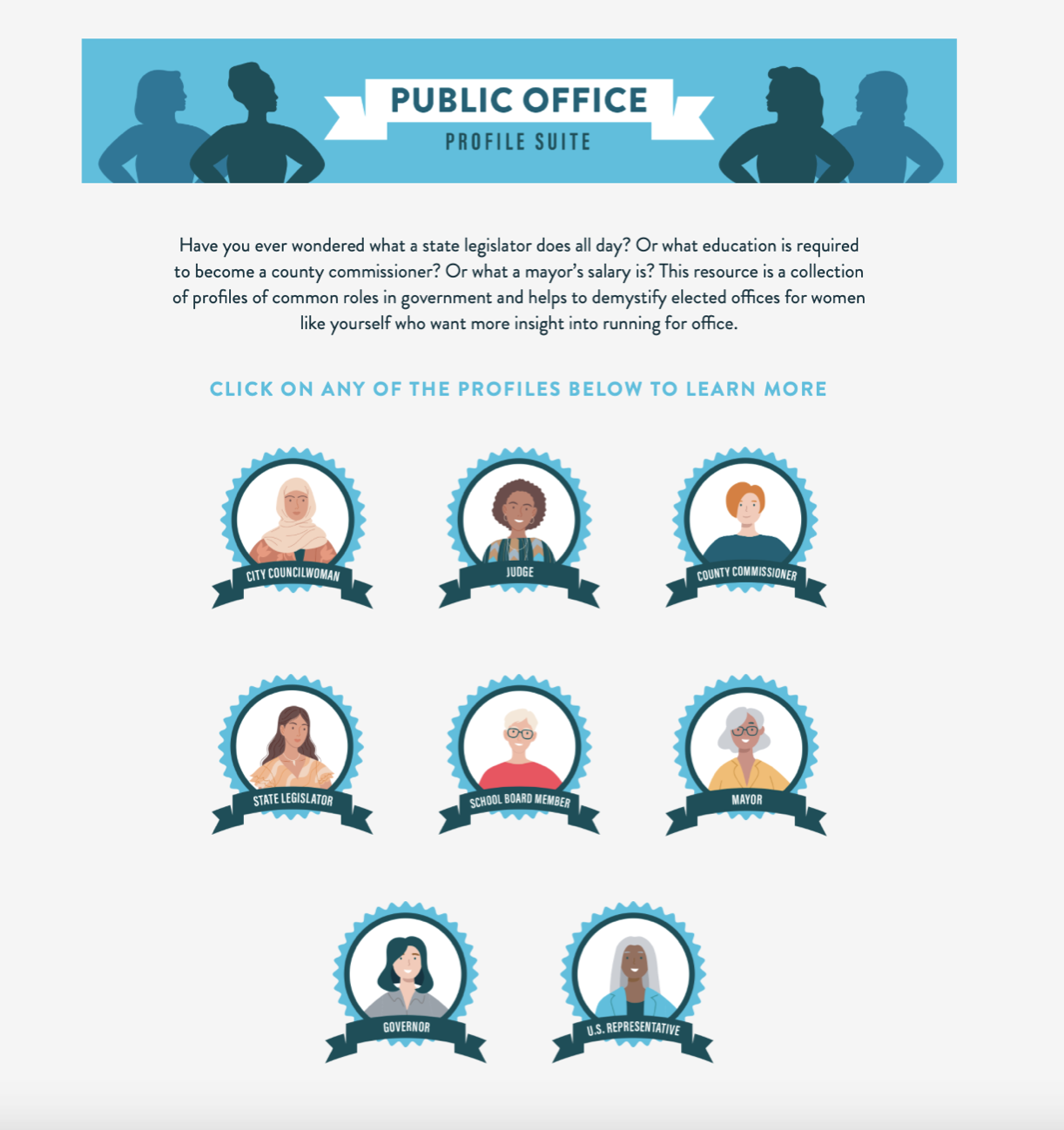 For example, women unsure of the responsibilities of a local elected official can review the profile of Rosemary Ketchum, a Councilwoman from Wheeling, West Virginia, or Roxy Ndebumadu, a Councilwoman from Bowie, Maryland. With less than 30 percent of public offices currently held by women, the Public Office Profile Suite was created for American women from all walks of life who aren't yet thinking about running for office but should be. 
"We know that in order to reach equal representation in our lifetime, we need to flood the candidate pool with women ready to make a difference in their communities," said She Should Run's Director of Programs, Mishon Montgomery. "For all the women who do not yet see their potential for elected leadership, I invite you to join us on this journey. Our goal is to identify the barriers women face to elected leadership and tackle them head-on with the resources, education, community, and collective action that empower them to run for office."
In the United States, less than 30 percent of the over 500,000 public offices, most of which are at the local level, are held by women, effectively excluding women's voices from the issues that matter to them most. The Public Office Profile Suite is our latest effort aimed at mobilizing ALL American women to consider a run for office. Will you join us?
To learn more about what's required for different levels of government, sign-up for the Community and check out the Public Office Profile Suite for yourself. What office will you run for??
Enjoying our blog content? Help pay it forward so more women are able to wake up to their political potential. Donate to support She Should Run.
Give Today