Jen Macias DeMeyer's Recipe for Success
This is the second feature in our Hispanic Heritage Month profile series, and this time, we're excited to introduce you to Jen Macias DeMeyer, one of the leaders of the Latina Affinity Group in the She Should Run Community! Jen is Director of Marketing for Homebase, helping to create a brighter "Future of Living" through digital content, industry foresight, and relationships in the real estate industry; she's also active in her community, currently serving a four-year term for the City of Kansas City's Municipal Arts Commission. We asked her to share some of the ingredients in her leadership special sauce, and now we're excited to pass them along to you!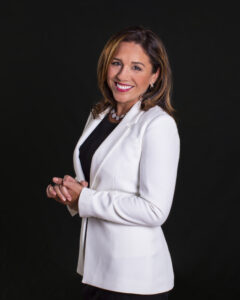 Listen and be present. Everything you're doing right now will help you understand what you need to know tomorrow.
Yes–EVERYTHING.
I spent 10 years primarily focusing on raising my three boys. During that time, I worked in bars and restaurants and ran an in-home daycare to support our household income. Fast forward 10 more years after I rejoined the workforce, and I can honestly say that during those kid-focused years, I gained incredible strength in remaining calm during a crisis, emotional intelligence, patience, and how to negotiate with unreasonable people. I also learned how to stand up for myself as a small business owner and some serious conflict resolution skills. Today, those skills have proven to be the ones I use most as a leader.
It's tough to reconcile the fact that the worst job, life experience, or relationship helped create who you are today, but there will always be something you learn or develop from those difficult times. 
Keep asking questions.
Learning doesn't end with formal education and curiosity does not kill the cat.
I was once told that I ask too many questions of authority, but I am so glad I kept asking. Being curious is integral to being successful in business, personal fulfillment, and leadership. Whether you're a stay at home parent whose last kid graduated college, a titan in business at the top of your company, or somewhere in between, there's always room for growth. Keeping your mind open to different views, reading a variety of books–fictional, factual, insightful, short stories, articles, and any other style you come across–that look interesting to you will help you gain new perspectives you might not gain through experiences.
Don't fear mistakes.
Embrace the really great mistakes where you come away doing something different. My greatest "mistake" was getting married at a young age. Yet I would do it over again because I gained way more than I lost. My children, obviously, but the whole experience of living a different life from what I have now gives me a greater perspective and expands my ability to empathize.
Do scary things.
This is where big change happens and the reason why facing your fears is such a hot topic for professional speakers and authors of business advice. It works.
This is different from being concerned you'll make a mistake. I was terrified of cold calling. I already knew I was terrible at it and would make all the mistakes. So I took a job in sales where the primary task was cold calling and the best way was to call on someone in person. Thankfully I lasted a year before another opportunity was presented but I refer to that experience in so many ways: as a source of strength, as proof that I did not die, as a commonality with employees, and as a source of pride. I did it. I still have to do it. I still may not like it, but it's not nearly as terrifying.
Forgive yourself.
You're going to mess up. Personally and professionally. It doesn't mean that is what will define you. 
One of my favorite books is The Four Agreements: A Practical Guide to Personal Freedom by Don Miguel Ruiz. I refer to it so often that I have those agreements framed in my office. All are equally important, but one directly applies to forgiveness: Always do your best. Your best is not the same every day. You will not always be patient or honorable or on top of your game. If it was the best you were capable of at the time, then forgive yourself for not performing in a way you would expect when you are performing at your best.
You can learn more about Jen by following her on Twitter, Instagram, and LinkedIn. Want to see how other leaders do it? Read our first Hispanic Heritage Month profile feature here! 
Editor's note: some responses edited for length. 
Enjoying our blog content? Help pay it forward so more women are able to wake up to their political potential. Donate to support She Should Run.
Give Today