Get to know I'Sha Schultz-Spradlin
She Should Run is a nonpartisan nonprofit promoting leadership and encouraging women from all walks of life to run for office. We are driven by a vision of seeing 250,000 women run for office by 2030. Our programs provide an approachable starting place and network for women leaders considering a future run by providing community, resources, and growth opportunities.
I'sha Schultz-Spradlin is an Orange Virtual Cohort member and below she tells us why she decided to take the first step towards running for office with the cohort, why she thinks LGBTQ+ women should be involved in politics, and how she balances all the different aspects of her busy life.
Get to Know I'sha
I'm a 26-year-old queer/bi-sexual millennial living in the city of Detroit with my husband and our 4 pups. I actively work in my community as the President of our College Core Block Club and as a San Juan Block Club member. A good time to me includes spending time with friends, engaging in meaningful conversation about the world we live in and anything active. I love to travel and, I always take a cooking cass when I do because I feel it's the best way to immerse yourself in the culture.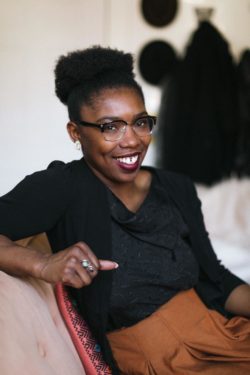 Tell us your educational and professional background.
I graduated from Bloomsburg University of Pennsylvania with my BA in Political Science and 3 minors in Legal Studies, Gender Studies, & Philosophy. I started my non-profit career in fundraising working as a Development intern at the Brady Campaign to Prevent Gun Violence. I landed my first professional career as a Communications Manager for the Ruth Ellis Center and was promoted to Development Associate after my first year. I've been working at the Center now for 3 years. 
You're incredibly active in your community. What made you want to get so involved?
I've always been a fan of community activities, so when we moved to a new neighborhood that was looking for community engagement, I jumped to the task. I've always gotten by in life due to the kindness of strangers so I've always set out to return that same kindness.

When was the first time you thought about getting involved with politics, even if you later brushed it off?
As a little girl whenever anyone asked me what I wanted to be I would say a veterinarian or President. The older I got the more intense the draw to politics became for me, but when it was time to go to college I settled on becoming a lawyer. It wasn't until my first Intro. to U.S. Gov. course did I set in stone that I wanted to be a politician. I realized to really help people I had to represent the people, truly represent them as a person of the people.
Has anyone ever encouraged you to become a leader? If so, how did it make you feel?
My Mom has ALWAYS been my biggest supporter, she believes I can do anything. However, it wasn't until I won my first election as Vice President of Recruitment of my sorority Delta Phi Epsilon did I feel truly encouraged to become a leader. I didn't even want to run but my sisters pushed me to do so because they believed I would be a great leader. It made me feel so loved and supported that I ran and won.They even gave me superlative awards for "most likely to be President" and nicknamed me Hillary Clinton. 
Has anyone ever made you feel like you CAN'T be a leader? If so, how did that make you feel?
Yes, yes and YES, and it made me want to be one even more. A former friend of mine would constantly tell me I wasn't smart enough or liked enough to lead anything let alone a country. Well, I'm glad he did say all of those things because it motivated me to work HARD to prove him and everyone else wrong. It made me want to show the world that a leader doesn't look one way, a leader can lead with empathy, love, and passion, and a leader can be a black queer woman.
What makes you the most nervous (or excited) about taking a first step into the political world?
What makes me the most excited about taking the first step into the political world is being able to do so authentically as myself. Due to powerful women like Rashida Tlaib, Alexandria Ocasio-Cortez, and Ayanna Pressley, I feel like I can run as ME. I don't have to conform to what people consider a politician, they proved that all a politician needs to be is a person of the people. They are real people responding to a call to action and they proved that's all it takes to be a leader and that if you are authentically you, people will vote for you. 
What drove you to participate in the She Should Run Virtual Cohort?
What drove me to participate in the She Should Run Virtual Cohort was the community. Sisterhood is what made me see myself as a leader in the first place and I truly value that support. Being with such a diverse group of women who are just constantly encouraging and helping one another makes running for office not as scary.

What is it like to participate in a nonpartisan program?
It's amazing! You get to hear all sides and as a strong believer of open dialogue, it's invigorating hearing from all the women from all over the country. Unless we start to pull one another in and stop demonizing each other due to political affiliation, we won't be able to progress as a society. This program shows the strength in coming together, and how we can all have different points of view but exist together and not limit or restrict others just because their point of view or life is different.
Why do you think it's important for LGBTQ+ women to step up and get involved in different areas of politics?
Our voices need to be heard! Transwomen, specifically transwomen of color, are being murdered at alarming rates yet no one is ringing the alarm. LGBTQ+ women exist in the world so they should exist in our politics as well. It's great having allies but we also need to do the work ourselves. In order for our legislation to reflect our society, we need to have seats at the table. No one is going to speak for us with the same tenacity that we will. 
How do you balance your work, your volunteerism, the virtual cohort, and other aspects of your life?
I practice A LOT of self-care. I am extremely extroverted, but that can be very emotionally draining being as involved as I am. I balance it all being very intentional on where, how and who I spend my time with. I meditate and journal to give myself time with my own thoughts and so they aren't just swarming all around my mind. I also spend my Sundays at The Schvitz in Detroit, which is an urban health club, and make my Sundays STRICTLY about me and only me. I find this helps me stay my best self if I don't take care of me I can't put forth my all to take care of others.

Do you have a favorite quote?
"When invited to the table, speak up and feed others."
She Should Run offers Virtual Cohorts throughout the year. Our Virtual Cohorts provides you with education and resources to demystify the myths around running for office, a judgment free zone where women can explore a future run for office without intimidation, and a community of supportive women all across the country.
[button text="Apply to the Virtual Cohort!" url="https://www.sheshouldrun.org/virtual-cohorts/" /]
Enjoying our blog content? Help pay it forward so more women are able to wake up to their political potential. Donate to support She Should Run.
Give Today