Change Is Her: Dr. Audrey Young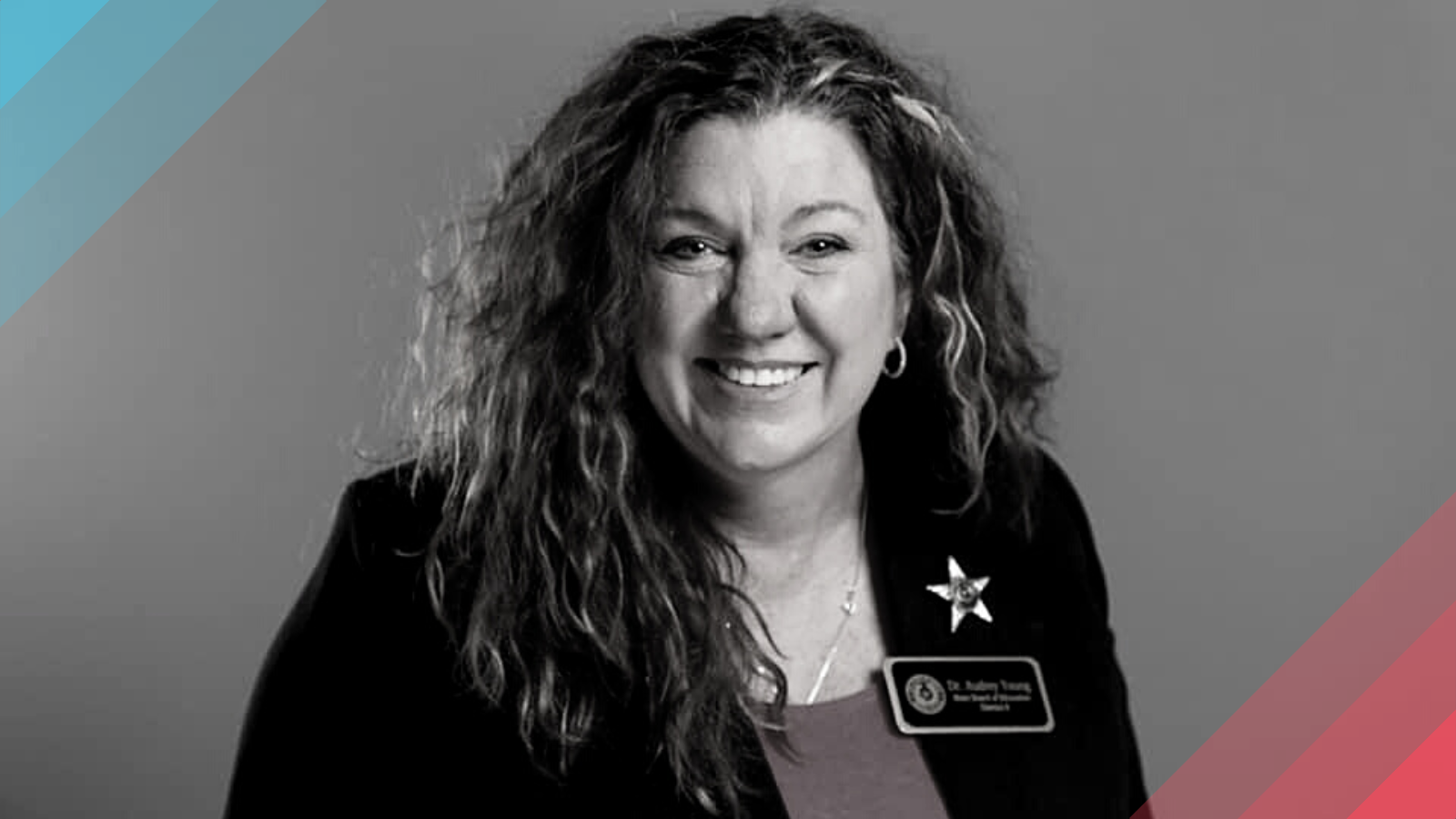 Dr. Audrey Young was elected to the Texas State Board of Education in November 2020 as a representative of District 8 (Greater Houston and Southeast Texas). She earned a Doctorate of Education from Stephen F. Austin State University and has worked in public education for over 29 years. She served on the Board of Trustees for Apple Springs ISD in Trinity County for 6 years and the TASB Legislative Advisory Council (LAC) representing Region 6 for 3 terms. Young was recently named 2021 Educator of the Year in Special Services from the Association of Texas Professional Educators and awarded the 2021 State of Texas 4-H Salute to Excellence Award for District 5. 
She Should Run (SSR) sat down with Dr. Young to ask about her career journey, what drove her to public service, and advice she has for women thinking about running for office.
____________________________________________________________________________________________________________________________
SSR: What first drew you to become involved in public service and eventually run for office?
Dr. Young: When I was in elementary school, we had the opportunity to run for student council. I was elected in fourth grade as my class representative, leading me to continue running for student council positions throughout secondary school. I was even elected as senior class representative in high school. That was the start of my leadership journey. 
When I began teaching, I became the lead teacher for special education and reading. At the same time, I became interested in participating, volunteering, and fundraising for civic organizations, including community partnerships that support foster care. Within those organizations, I made my way up the ladder, going from Secretary to Treasurer to President.
About eight years ago, I mentioned to my husband that I wanted to run for my local school board when I retire. The next day, he had the application on the dining room table when I got home and said that the seats were open now. I thought I would wait, but he told me to run now. So I did. 
One local group held a candidate forum as a fundraiser. And I was the only person running for school board who participated. After the event, I wrote a thank you note to the editor of the paper thanking the organization for sponsoring the event and what a joy it was. And when I went to the polls to vote for myself for school board, a lady there saw me and she said, "Are you Audrey Young?" I said, "Yes ma'am." And she said, "Well, I saw that letter that you wrote to the paper. Because of that, my husband and I voted for you."
I won my seat on the Board by just 3 votes. I learned then how important it was to reach out to the community and run a grassroot campaign. It's the little things you do that ultimately decide if you win an election.
SSR: A lot of women in the She Should Run Community are very daunted by taking the first step to run for office. What advice do you have for women who want to get involved in public service but are unsure how?
Dr. Young: My advice would be to attend Board meetings in advance. This gave me background knowledge of how those meetings functioned, how representatives leveraged their areas of expertise, and how they responded to the needs of their community. 
If you want to run for city council, your local water board, or any representative position, attend some of those meetings to be familiar with what it is that you're running for.  How does the position  function? What is its purpose? Those are all elements that you need to know. 
People sometimes run for elected positions thinking they're going to change everything. There was one little thing that they didn't like, and they're gonna get on that board and fix it. The truth is, there are so many other parts of this process, and as a board member, you're on a team, so any change requires a majority vote. Even if that's not the case, say you're running for a larger position or a sole representative position, you still have to work with other people. So my advice is to know what the position is about, know what it has influence over, and what it impacts in its field.
SSR: Are these meetings open to the public or published online?
Dr. Young: In small communities like my own, school board and city council meetings are not broadcasted online. You can typically find meeting information on posters at post offices, grocery stores, or schools. You can also drive down to City Hall and ask the secretary for meeting specifics. In larger communities, you'll probably find meeting times listed on their website. 
SSR: As you transitioned from the local to state board of education, what did you do to prepare yourself for your new role?
Dr. Young: While I was pursuing my doctoral degree, I did an internship with my local state representative. At that time, state board elections were open. My representative asked me what I wanted to do, and I said, "Well, now that I've been on my local school board for four years, I want to run for State Board. However, I know the person that's been in that position has been there for a while and I would never run against her." And he said, "Well, that's good to know."  He then introduced me to a friend of his who was currently running for State Board, and I had the opportunity to observe that race as a bystander: What events was he going to? What public statements was he making? What interactions was he having with his opponent? 
I had also reached out to the person who was in the State Board prior to me, and she let me know she was retiring. I asked her if she would be supportive of me running. She was initially reluctant, saying she wanted to prioritize endorsing somebody from her district. But she spent several hours with me on the telephone, interviewing me for her position. She also had colleagues that work in conjunction with the State Board interview me. Once I got all of their thumbs up, I became the person that they endorsed, and all of that was really important because I was going from just a local position to a state elected official position. Networking is hugely important when running for office.
SSR: What's interesting is that the process sounds just like a job interview, which a lot of women have experience with already.
Dr. Young: Yes! I just needed their thumbs up in order to really feel like I had a chance in this. That's important.
SSR: What is the importance of more women getting involved in education, public service, and running for office?
Dr. Young: It's really important that we have more women in office because it adds a different perspective. Our different experiences in life shape our decision-making. And a woman's perspective is important to bring to the table when making decisions that impact everyone. We are critical thinkers that have the ability to see the whole picture while advocating for even the smallest elements. 
SSR: What advice do you have for getting involved in public service and civic engagement? What are small, easy steps anyone could take?
Dr. Young: I would absolutely encourage them to join their local junior forum or their local community service partnerships, like the Lions Club. By joining an organization that is civically engaged and benefits the community, they can understand the governance of that particular organization and practice their leadership skills. If it's not something that they find an immediate attachment to, then bow out gracefully and find something else that really speaks to their passion. It's okay to try different organizations and different things. That's all part of this process. You really have to find your niche and where your true passion is. And you have to love it. I wouldn't do what I do if I didn't absolutely love it. Women really have the opportunity to change the world. And we need to get out and do more, because it's so important that our voices are heard and that we advocate for everyone, especially those whose voices aren't heard and who are underserved.
Enjoying our blog content? Help pay it forward so more women are able to wake up to their political potential. Donate to support She Should Run.
Give Today