A Day in the Life: Christine Hernandez
This Hispanic Heritage Month, we wanted to introduce you to some of the superpowered women in our community, starting with Christine Hernandez. She's one of the leaders of the Latina Affinity Group in the She Should Run Community. She's currently running for office–while pregnant!–so we're extra grateful that she was able to take a moment to walk us through a day in her life (Voter Registration Day, no less), from squeezing in an early-morning workout to chasing around a kitten and balancing family time, work, and volunteering.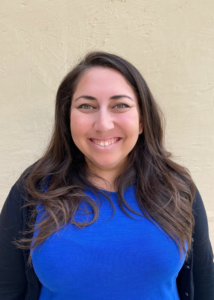 5:35 AM I wake up, test my blood glucose levels. I'm five months pregnant and have gestational diabetes, so I check my blood glucose levels four times a day. Gestational diabetes is sometimes stigmatized but it affects 2% to 10% of pregnancies.
6:00 AM I head to my nearby gym–I feel like I'm at my best when I'm able to fit in a workout in the morning. I spent about 35 minutes on the elliptical, then it's back home to get my daughter ready for school.  As much as I didn't want to leave in the dark to go to the gym this morning, the thought of having oatmeal and sliced strawberries when I get back really motivated me!
9:30 AM I have my first work meeting of the day. Since it was National Voter Registration Day, I asked if we could spend 1-2 minutes checking our voter registration status as a team or texting someone we knew to remind them to register to vote. I work remotely, and during the meeting, my sister's kitten decides it's a good time to distract everyone while I'm on the call by running over everything. 
11:30 AM I take a lunch break, make a sandwich, and attempt to take the kitten outside. She really enjoys being outside on the leash but if she sees it, she definitely wants to attack it. During my lunch break, I also finalize a mailer design for my school board campaign. 49 days until election day!
2:00 PM My work livestreams a press event in San Francisco. I watch through Instagram Live. Mayor London Breed shares a story of when she attended the school, when the school was named something else, and how impactful those school years can be. I felt really inspired listening to the two high school students that I supervise speak at the podium. I wish I could be there, but I am so happy to see how much the students have learned since they started working with us in July.
4:30 PM I walk across the street to pick my daughter up from school. Since she has gymnastics in the evening, it's important to make sure she has some downtime. When we get home, we finish setting up her Girl Scouts fall product account details. She and her troop use this fall product program as a way to raise funds for activities, field trips, and supplies. I really enjoy being a troop leader for her troop. 
5:30 PM My spouse takes my daughter to gymnastics and I quickly heat up dinner. I combine cauliflower rice, stir fry veggies, and ground chicken that's been marinated with a blend of soy sauce and teriyaki–at home we call it a "bowl of warm." When you have gestational diabetes, diet plays a really important role in your day to day, and this is one of the meals that I don't ever worry about spiking my glucose levels.
6:00 PM I arrive at Katie Porter's campaign office in Huntington Beach; there's a group of local candidate campaigns in the area who are phone banking together to recruit volunteers for an upcoming day of action at which I'll be one of the speakers. I join the phone bank, and at this point, I'm in a really good mood and wishing the people I call a happy National Voter Registration Day. What can I say? I love this day. 
7:00 PM I can only stay for an hour to volunteer before I have to head back home. Between balancing work, volunteering, and campaigning, it can be really hard to feel like you're spending enough time with the family. Knowing that I'm going to be out on the campaign trail Thursday night, I come back home to help with the nighttime routine. This is the second time I've run for office and, even though my daughter's young, she understands what I'm doing. She's insisted on having one of my campaign door hangers on her bedroom door. It's important to me to have this time with her during campaign season and before I deliver in a few months.
8:45 PM I work on a couple of to-do items for my volunteer role with She Should Run. I meant to post earlier in the day in the Latina Affinity group but the day has been a blur.
9:00 PM I start preparing for bed. There's three important things I have to do: first, I give myself an insulin injection every night to manage my gestational diabetes. I also have to have an evening snack that's high in protein to help with my overnight fasting numbers. Tonight's snack is string cheese. I then take my prenatal vitamins and my other medication. I usually watch an episode of something before going to bed. Excuse the nerdiness, but right now I'm finishing The West Wing. I went through the whole series the last time I ran for office and it's a nice tradition. 
Learn more about Christine by following her on Twitter. Want to get inspired by other leaders in the She Should Run community? Jen Macias DeMeyer, a member of the Kansas City Municipal Arts Commission and Director of Marketing for Homebase, shares her ingredients for success here. 
Editor's note: some responses edited for length. 
Enjoying our blog content? Help pay it forward so more women are able to wake up to their political potential. Donate to support She Should Run.
Give Today