SHE SHOULD RUN
2020 ANNUAL REPORT
2020 was a challenging year across the globe, as we faced a global pandemic and widespread reactions to ongoing racial violence in the U.S. She Should Run is proud of the way not only our team came together to continue to achieve new Community milestones, but how the public at-large doubled down on their commitment to getting more women to consider a run for office in what proved to be an historic election year. People and partners pitched in at record levels for equal representation and to support our work to see more historically underrepresented women considering a run for office. What we learned in perhaps the most trying year many of us have ever experienced is that we are resilient, and our practices are sustainable across the board, which positions us really well to begin to scale up.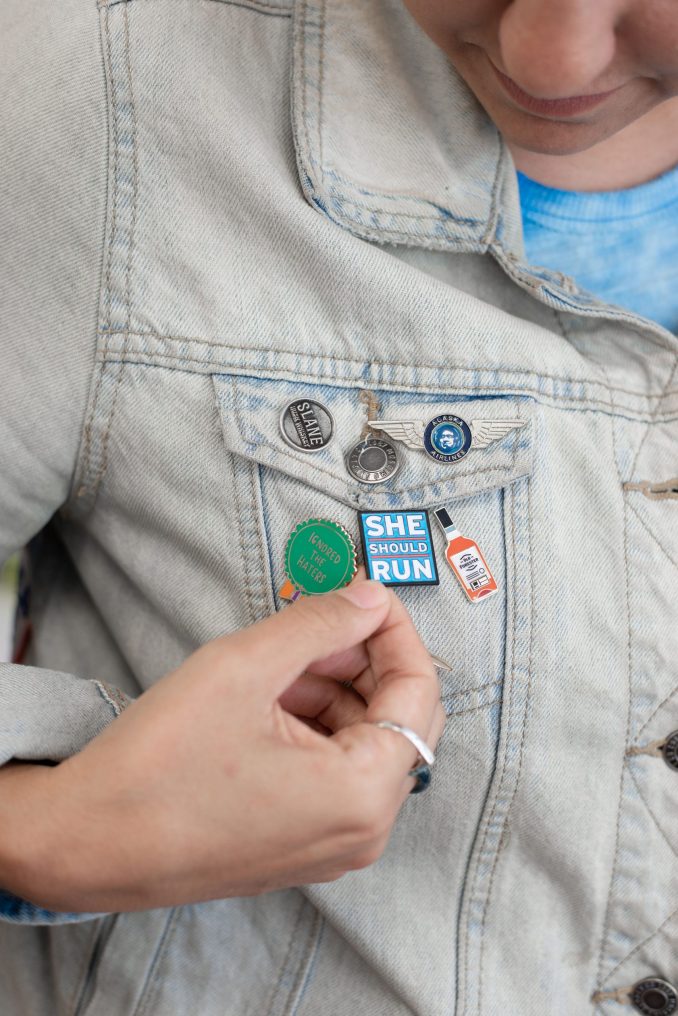 Mission & Vision
She Should Run is a national nonpartisan 501(c)(3) organization that increases the number of women considering a run for public office by helping them realize their potential. We encourage women to explore the possibility of running for office and abandon the status quo conclusion that they shouldn't run because they won't win. We are driven by a vision to see historically underrepresented women play a leadership role in our democracy.
Our Values
Imagine the possibilities.
Challenge the status quo.
Make an impact.
Build inclusive community.
Honor diverse voices.
Cultivate a culture of learning and curiosity.
Where We've Been
In 2020, She Should Run, like every other company across the globe, faced the tremendous challenge of shifting our entire business model paradigm to adapt to the ever-changing realities of the COVID-19 pandemic.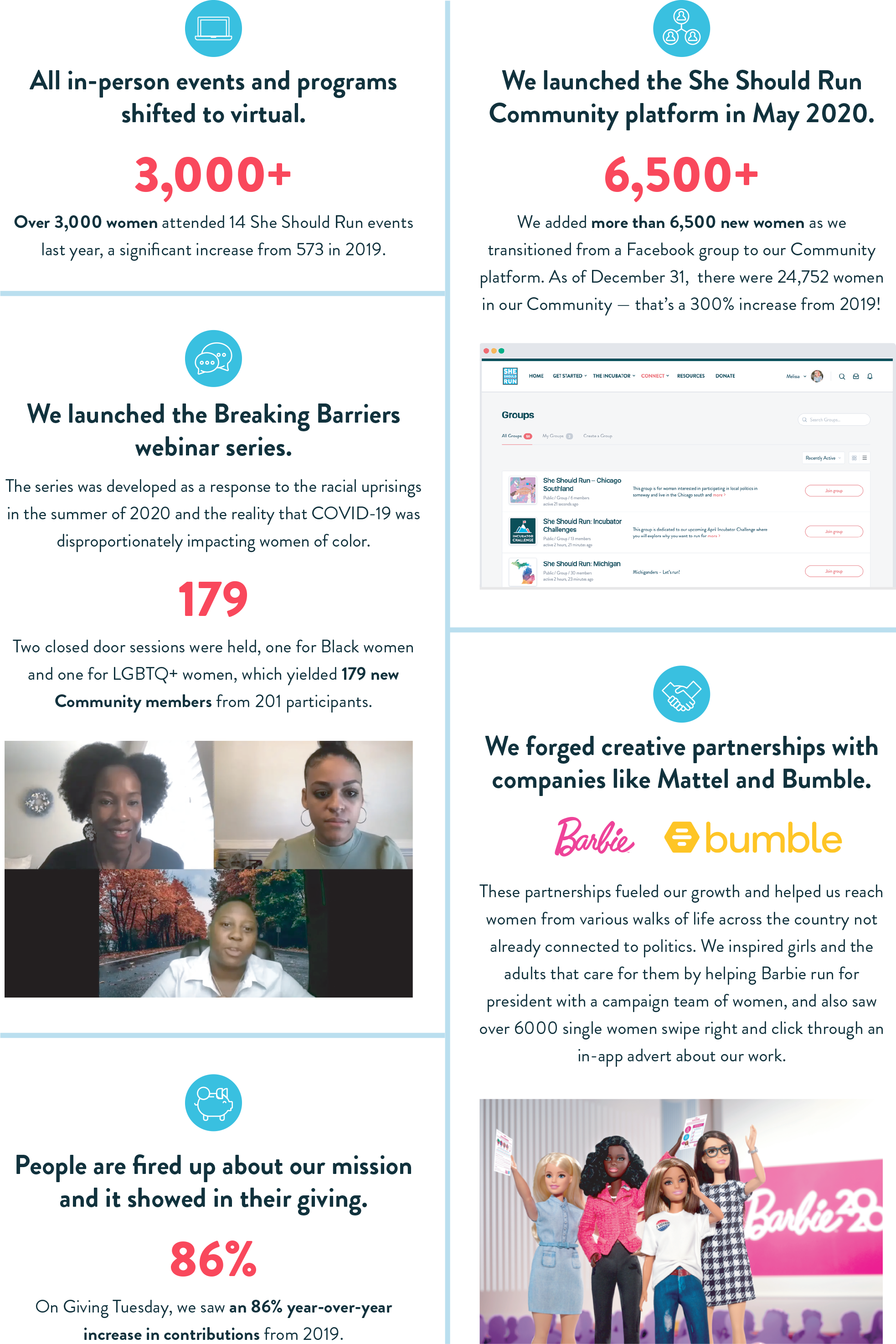 Where We Are
Thanks to the foresight of our Board and leadership team, we are financially solvent. We have posted a 23% increase in revenue from the previous year, and are proud to boast 100% staff retention in 2020. As a cause driven organization, people drive the delivery of our work. We value and invest in our infrastructure and are proud that our financial management has positioned us to continue to add staff capacity to our organization going into 2021.

Where We Are Going
We still have much more we need to accomplish and raise to maintain our position of financial strength and achieve our mission of helping women consider a run for office and decide whether it's right for them. We also still have so much to do to get to our goal of dramatically increasing the number of women in the political pipeline. In 2021, we are doubling down and refining our focus as an organization. After spending much of 2020 showing our flexibility and resilience as an organization, in 2021, we are ready to implement the systems and processes that will help us to build on the success of a pandemic year and scale our outcomes.
We are working hard to implement new ways to define and track our success, and to shore up our fiscal sustainability so that we can continue to fulfill our mission. Here is where we are going:
Plan for the Future
Covid-19 has brought about many changes in the way we do our work, the landscape of political leadership, and more broadly in the critical needs of the communities we serve. To ensure our efforts are as sharp as possible in the changing landscape, we recently initiated a strategic planning effort to accelerate our mission.
This includes updates to our mission and vision statements, as well communicating our organizational values and goals, and making sure we are using those to guide all of our actions.
Streamlining processes to increase efficiency as we continue to strive to do more and take on more.
Increase Awareness
Increasing public awareness around our organization and our mission, and empowering members of our community to be the experts on their lived experience as women who are considering a run for office.
Build Inclusive Community
Building a diverse and inclusive learning Community that reflects the demographics of our nation.
Creating more content specific to each of our target groups to make women feel truly included and represented in our Community.
Engage Our Community
Engaging our community more and tracking the effectiveness of our programming in getting women to consider a run.
Democratizing the community experience by offering leadership opportunities to the members themselves.
Encourage She Should Run Community members to an action-oriented mindset in which they are motivated to take the next steps of their political leadership journey.
Diversify Revenue Streams
We have always approached finances with an emphasis on sustainability and scalability. We have been committed to cost-effective budgets and keeping a close eye on our financial performance, cutting costs and investing where necessary and holding true to best practices of diversifying our revenue streams. In 2021, we are focusing on continuing to identify new revenue sources and working to increase our reserves.
We're strengthening our planning processes to continue to showcase resilience in the face of unforeseen circumstances — like a global pandemic! — and building in benchmarks to evaluate success.
Collect & Analyze Data
Leaning on data collection and analysis to provide valuable insights to both better inform our work and provide the community at-large with information to better serve women in the political pipeline.
Very little data exists about our target audience. So we are committing to taking on more research to learn more about how to best serve women across the political spectrum.
Taking on a data infrastructure project to streamline the way we collect and analyze data internally and to ensure all systems are communicating with each other.