In order to achieve our goal of getting 250,000 women to run for office by 2030, She Should Run is making sure women across the country have access to local resources they need to even consider a run of their own.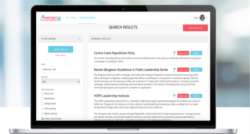 Introducing Pinpoint, an interactive tool that allows you to find and share valuable educational resources that focus on running and serving in elected office.
With Pinpoint, you can find the support and tools you need right in your backyard, making a step towards running that much easier.
Pinpoint Tips

Save your login information:
To access Pinpoint you must create an account. If you're in the Incubator, you'll still need to create a separate account, although you may want to use the same username to keep things simple. Save your login information in a safe place so you can access it in the future. If you forget your password you can have the password reset from the login page.

Keep your search broad:
While She Should Run's allied organizations, partners, and very own Incubator community–all of whom are diverse in race, sexual orientation, geographic location, and political affiliation–contribute resources to Pinpoint, we encourage you starting your search broadly with the filters. Even just looking at what's in your state by party preference can help you see the variety of options in your region. As more resources are added you'll be able to get more detailed in your searches!

Share your knowledge:
You know your community best. Know of a great local organization that offers educational resources focused on running and serving in elected office? Upload them to Pinpoint by clicking "Add a Resource" on the My Portal or Find Resources pages. Click save once to avoid duplicate submissions. She Should Run staff will review and approve all appropriate resources within a week of submission. Submissions may be denied if it does not align with the purpose of Pinpoint or if the resource is already in Pinpoint. She Should Run staff will contact you if the resource you submitted needs any clarification. You will receive a confirmation email if your resource was approved.

Resources listed in Pinpoint have a lot to offer
: Many of the organizations included in Pinpoint offer a variety of resources for women from all different backgrounds and experiences. Pinpoint 
makes it easy to search and target these resources based on the many elements that make up a candidate's identity - and we need your help when you're sharing your knowledge. 
When adding a resource, consider all of the ways it can assist women in taking the next step on their path to public office. For example, the National Foundation for Women Legislators offers all three. Another example is the National Women's Political Caucus which offers both campaign/candidate training and financial/political support for candidates. Does the organization work with women from a particular political affiliation or community? The more detailed you get on what an organization has to offer and for who, the more likely Pinpoint users that would benefit from those resources will come across it.

Got questions?:
We got answers. Email
community@sheshouldrun.org
with any questions about Pinpoint or if you need assistance with troubleshooting an issue.